The Historical Fencer was contacted by Jonathan Collins who is a Wheelchair Fencer from Selsey in West Sussex, United Kingdom. He was born with Spina Bifida and Hydrocephalus. Although his sport is neither historical nor classical, we're always interested in hearing about fencing culture and various views on fencing, so we decided to ask him a few questions.
What was it that attracted you to fencing?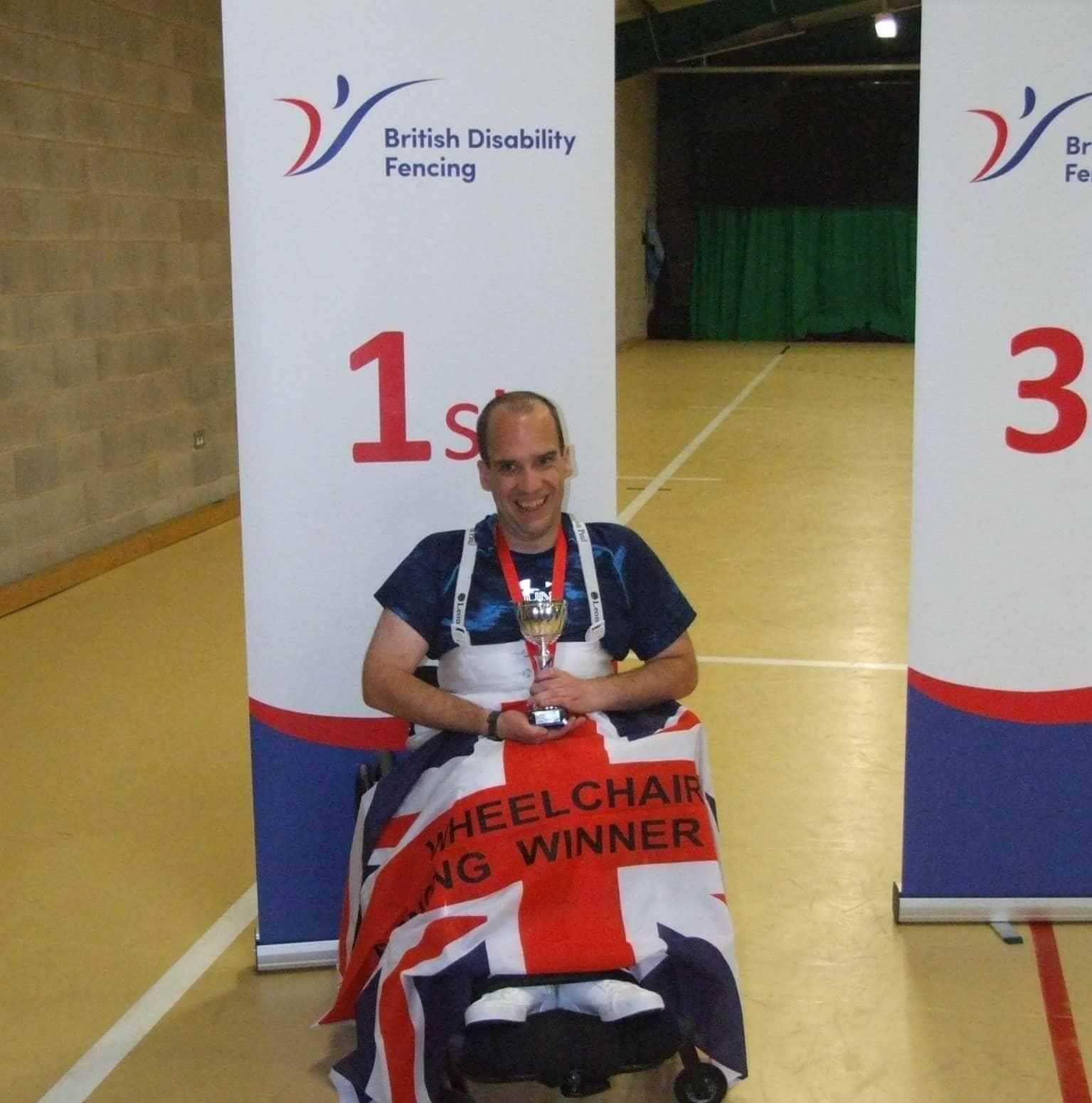 I was introduced to Wheelchair Fencing in 2012 by a friend who fenced at Chichester Fencing Club and I then met my trainer Viv Mills, who is a Retired Wheelchair Fencer. I knew what fencing was and I thought it looked cool, but wheelchair fencing is slightly different so I didn't know what to expect. It felt amazing. The first time I was a little nervous and a bit scared at first, but once my trainer showed me slowly what to do it didn't take long to get the hang of it. I find it just as exciting now as I did then.
What is your greatest fencing moment?
My greatest Wheelchair Fencing moment was in June 2018 when I went to the National Championships and took part in the Novice Challenge—the Novice side of the National Championships. I took Bronze in the Mixed Foil and Gold in the Mixed Sabre.
What does your training look like?
I train once a week at Chichester Fencing Club on a Friday Night. A normal fencing session is about 2 hours long, we do exercises before to loosen the muscles so we don't get hurt. My trainer then shows me how to do some techniques and then we do some sparring matches to finish off. My relationships with my trainer is very good as both being in wheelchairs we know our limitation on what we can do. I am also severely sighted which is a challenge and the only wheelchair fencer in the UK doing this with a sight impairment.
Wheelchair fencing is very different as you don't move on the floor and you are fixed to a metal frame which is on the piste.
What does the sword and fencing represent to you?
I find Wheelchair Fencing helps me mentally and physically by keeping me fit. My inspiration is an Italian Wheelchair Fencer called Beatrice Vio who has no arms below the elbow and no legs below the knee. She really is a true inspiration to me. I also love using the sabre and always wondered what it would have been like to use it in the olden days.
What are your next goals?
My goals are to keep on winning medals and entering competitions when I can in the UK. I hope to do the national championships next year but we'll see how things go. On top of that I am writing a book on Wheelchair Fencing.
Don't forget to follow Jonathan on his Facebook page:
https://www.facebook.com/WheelchairFencerJonathanCollins/